Software systems and BPM
Read the paper: W.M.P. van der Aalst, A.H.M. ter Hofstede, M. Weske, Business process manage-ment: A survey, in: Proceedings of BPM 2003, LNCS 2678, Springer-Verlag, 2003. link
The following figure is taken from this paper.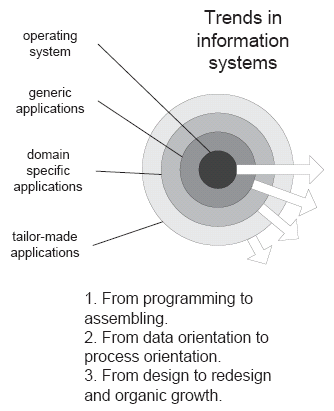 a) Assign the following software systems to the appropriate layer as depicted above. Is a clear assignment always possible? What is the relation of these software systems to business processes?
UNIX
SAP R3
Excel
Database Management Systems
Workflow Management Systems
Virus Scanner
CORBA-Broker
b) Give examples for the statement that the layers depicted above are moving to the outside while absorbing new functionality. Is there also a movement to the inside?
More information on trends in enterprise system architectures can be found in the book in chapter 2.